Spring Time – Prime Time for Catfish
by Zakk Royce, published by the Lake Gaston Gazette-Observer
Springtime is one of my favorite tines of the year to fish for catfish. Not only is the weather very pleasant, but the fishing can also be exceptional!
As the water temperatures start to rise back up into the 50's, normally in the beginning of March, the fish really start becoming more active again and begin moving out of their wintertime holes. During this time, the catfish become very aggressive, making it a prime time to have a chance at a big fish!

As with all times of the year, location, presentation, and bait are still the biggest factors in catching the catfish.

My preferred way of fishing year around is trolling and drifting, using rod and reel of course, and attaching my signature planer boards to my lines to increase the area of water I can cover while fishing.

I'm usually baited up with fresh cut bait such as shad, or bream. Location is the trickiest part. However, as I stated, when you do find the fish during the spring they normally are aggressive and ready to feed.

Good areas to start looking in the spring are around the mouths of creeks, and along the old river channel on the main lake. The catfish are often chasing shad (bait fish), which will be moving, in and out of the creeks a lot during the spring. The fish use the creek channels and main channel as highways to travel up and down the lake to different locations, so there's always a good chance of finding them in these areas.

Targeting these catfish is a great way to get out with friends or family and enjoy a day on the lake, making memories that will last a lifeline. Catfish offer a great fight for those who fish for sport, and catfish 15 pounds and under can also provide great table fare for those who are want some fresh fish to eat, especially when served with my "Captain Zack's Cocktail Sauce" from Captain Catfish Sauces.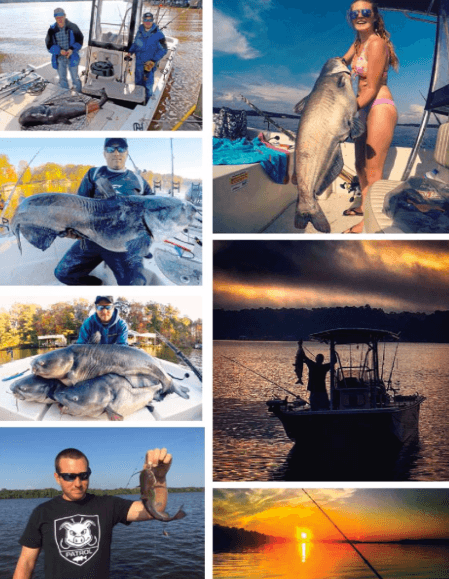 Zakk Royce is co-owner of Blues Brothers Catfish Guide Service. To learn more call 919-724-14 74 or visit that web site at https://www.bluesbrotherscharters.com or follow them on Facebook.